What's the difference between Firing and Laying off? 
A lot of people right now are using the terms "fired" and "laid off" interchangeably. But there's a big significant difference between the two. Firing occurs because of the employee's fault, like unsatisfactory performance and unacceptable behavior, while a layoff is the fault of the employer, like budget cuts and company downsizing.
Dot Com Bubble Burst 2.0 much?
Companies have been laying off employees left and right post-pandemic. Industries that witnessed massive growth during the Pandemic like the IT industry, are currently witnessing a slump in revenue. Over the course of a few months starting from the 2nd Quarter, the industry experienced some of the most massive layoffs in history.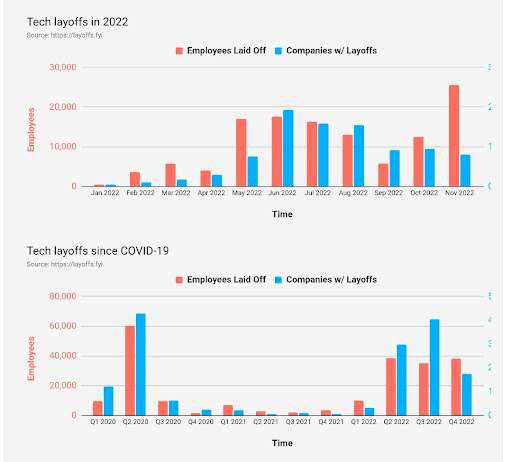 Meta has had the most massive layoff of 11,000 employees. Twitter has laid off 3,700 employees, mostly to make up for the losses Elon made due to a series of poor business decisions.
Amazon is reportedly going to lay off 10,000 employees to make up for losses. Due to fears of recession, Apple has laid off 100 contractual employees.
Google CEO Sundar Pichai is taking a slower approach with a 60-day layoff tactic. Rather than immediately laying off workers, Google is giving them 30 to 60 days to find a new job internally. At Microsoft, the layoffs affected almost 1,000 employees.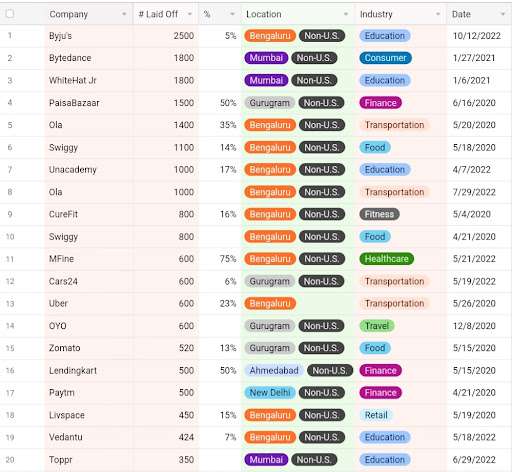 In India, the Ed-tech Industries which went through massive growth during the pandemic have been severely affected. Byju's led the chart by laying off 2500 employees, followed by WhiteHat Jr, Unacademy, Vedantu, Toppr, and Frontrow which laid off 2100, 1500, 724, 350, and 275 employees respectively this year.
Some "relatively" smaller ed-tech companies like Uday, Superlearn, Lido, and Crejo Fun didn't even stand a chance in the brutal economy and shut down their businesses. MFine, the health-tech startup, also laid off 600 employees in May this year.
Ola has also been going through massive layoffs, mostly due to ill-timed bad decisions and poor management.
Tech companies are coming off a period of outsized growth, spurred by the pandemic. What's happening now is something of a correction, said Dan Wang, an Associate Professor at the Columbia Business School. Inflation and Rising Interest Rates due to the Russo-Ukrainian War are making the global economy worse leading to Low Growth and Recession Fear.
Many tech companies are 2-10x overstaffed and everyone who's paying attention already knows this

— Nat Friedman (@natfriedman) October 26, 2022
Nat Friedman, CEO of GitHub, recently said many tech companies are 2-10 times overstaffed. It's just easier for startups who have money to hire new people than to fire low performers. Companies often overhire expecting proportional growth but they have a rude awakening when that doesn't happen, and resort to layoffs.
What does it mean for India?
Global Economic Crisis and layoffs may not be all bad news for India. India's top three IT companies TCS, Infosys, and HCL Tech employed 1.97 lakh more employees for the financial year 2022. Hometown Migration due to the pandemic made several firms set up offices in Tier-2 cities because employees didn't want to go back to metro cities.
According to surveys, Global Talent Shortage is at a 16-year high and IT and Data are still in high demand. Even though companies are cutting down on quantity, they are still in need of quality- which India has a lot of.
"People come to India for cost, stay for quality, now we are a true talent destination",
said Rishad Premji, the Executive Chairman of Wipro in a conversation with Money Control.